Helena Park
Painter from Somerset, England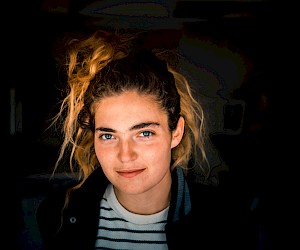 Helena is a practicing print-maker and painter based in Somerset, England. She graduated from Falmouth University with a BA degree in Fine Art and has since pursued her career as an artist full-time, successfully exhibiting and selling her work at art fairs in the U.K. and in Los Angeles.
Website
When did you start making art?
I have always drawn and created imagined stories on paper ever since I was little.
This obsession for creating images developed further when I went to study Art at degree level at Falmouth university in the west of England when I was 19. Ever since then I've been painting and making etchings full time by selling my work at art fairs around the UK and in LA.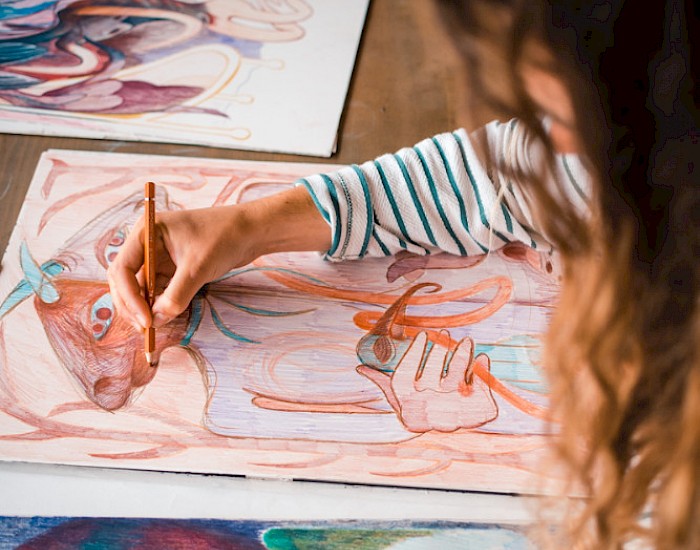 How did the opportunity for you to come to Cornelia's farm come about?
Cornelia was prompted to look at my work online on my artist website a year ago and was intrigued by my art. By happy chance I was visiting LA in October 2018 and so was able to also visit Cornelia in Malibu whilst I was staying there. During that meeting Cornelia proposed I take part in this year's 2019 residency which I was obviously thrilled by.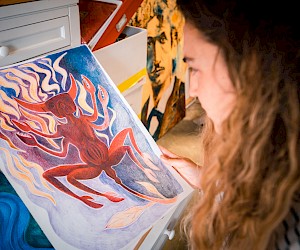 How has your stay been and did you find inspiration for your work?
The light and colour of Malibu and of California generally has noticeably seeped into my art and shifted it into being far more brightly colourful. I also love the community atmosphere where ideas and conversations are shared freely and are always inspiring.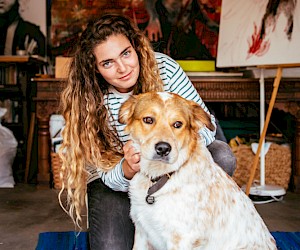 What will you take away from this experience?
I have had a truly amazing time at Cornelia's farm. The residency has definitely grown me not only as an artist but also as a person. To be able to talk with Cornelia about my art and to get her experienced insight and advice has been invaluable for me. Also it was great to meet the other artists in residence and to discuss their projects and art experiences with them. I will definitely be keeping in touch with them all.