Inga Krause
Art student at the Hamburg University of Applied Sciences (UAS)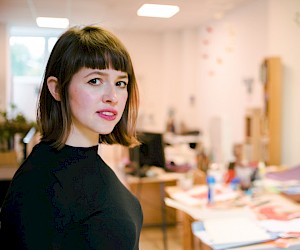 Inga comes from North Rhine-Westphalia and studied illustration and graphics at the Münster School of Design and the University of Applied Sciences in Hamburg. In 2019 she was nominated for the Hamburg Picture Book Award with her picture book concept "Petrichor". She's currently working on her master project in a small shared studio space in Hamburg Rothenburgsort.
Website
What brought you to art?
That's a question I've never consciously asked myself before. Since I can remember, I have been creatively dealing with my environment and I think that is the basis for my urge to do art. My mother and my grandmother are also creative people, so my interest in art was never a really conscious decision, but rather a natural consequence. For me, the interest in art is a normal state that has always existed and has now been fanned into a fire.
How did you get the opportunity to participate in Cornelia's "Artist in Residence Program"?
I'm studying illustration as part of the Master's program at the UAS in Hamburg, and a competition was announced there. We were allowed to develop an illustration for Cornelia's stories. I chose the girl who is trapped in the body of a vixen. The small text excerpt let me dive directly into the world of "Reckless".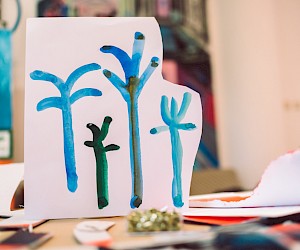 How did you like your time on the farm? Did you find inspiration there?
The time in Malibu was magical for me. The reflecting moonlight on the waves, the thorns of the gigantic cacti, the screaming of the coyotes, all the magic of this place seems like a dream to me today. The dream remains and it keeps mixing again and again with colours, forms or feelings in my work.
What did you take home from there?
To be brave!
Thank you, Cornelia...