Mareike Ammersken
Art student at the Hamburg University of Applied Sciences (UAS)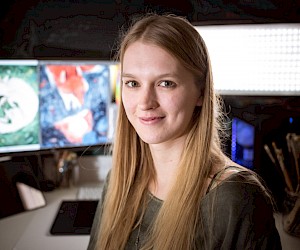 Mareike was born in East Frisia and lives and works in Lüneburg. After her training as a social worker and educator, she began studying at the University of Applied Sciences in Hamburg, because book illustration has always been one of her greatest passions.
Website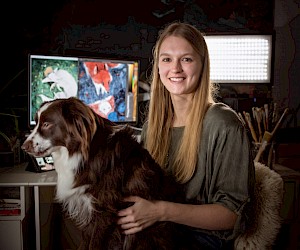 What brought you to art?
For as long as I can remember, art has been an essential part of my life. When I think back to my childhood, I always liked having a pen in my hand. It was just part of my life as if it were the most normal thing in the world. My grandfather was a painter and often took me to his studio. He showed me his latest works and always motivated and inspired me as a role model and artist.
My family was also completely on my side and supported me in my creativity. I was even allowed to spend a large part of my free time in different painting schools and thus got to know many different and very creative personalities. During my training at the technical college, I hardly had any time to express myself creatively. As an educator, everyday life is characterized by creativity but differently from painting and drawing. At that time, I not only realized that art is a formative part of my life, but that I can combine picture book illustration with my educational and artistic work.
Through exchanges with friends and family, I then plucked up the courage and decided to study illustration at HAW.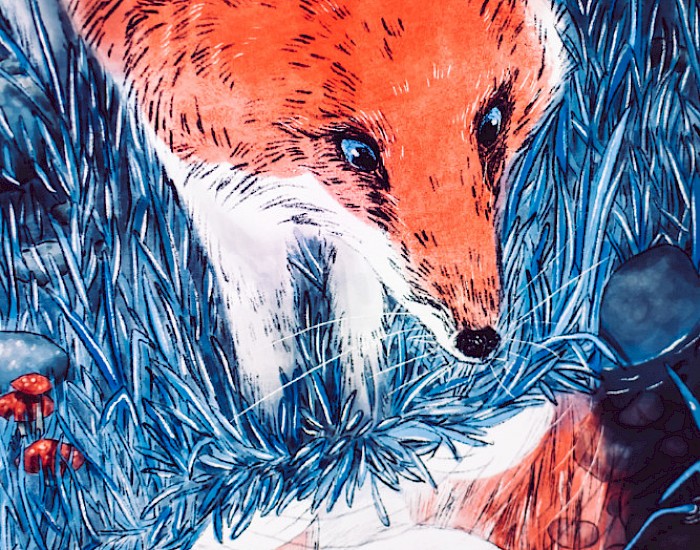 How did the opportunity to participate in Cornelia's "Artist in Residence Program" come about for you?
I have always been interested in Cornelia's stories and was immediately excited about the call for applications for the Artists in Residence program. I learned about this competition during my studies at HAW and was thrilled by the short stories Cornelia provided us with for this competition. We were asked to create an illustration for one of these text excerpts.
It didn't matter what media or material was used to complete the task. There were no limits to creativity, which was also very exciting to observe in the results. The story "The Beginning" tells of a girl stuck in the body of a fox. I have a lot in common with the fox, so it was not difficult for me to choose this story. It turned out to be tricky to represent both attributes in one illustration. A reflection in the water was to bring out the true self of the fox, the girl. The fairy-tale atmosphere was captured in muted colors, and the vixen's glowing red fur provided the contrast.
Besides sunscreen and slippers, what do you need in your suitcase for your trip to Malibu? And what do you dream of doing on Cornelia's farm (have you ever been to the USA/California before)?
I would love to put my dog in my suitcase. I'm sure he would like it on the farm too. But my sketchbook and a small selection of my favorite pens, which always accompany me in everyday life, are also very important.
Ideally suited to capture ideas and impressions quickly and in an instant, before the thought evaporates. Also, my iPad must not be missing, which accompanies me almost everywhere, as a digital sketchbook, so to speak. But what has been in my suitcase for the longest time is the anticipation and excitement. This is the first time I'm flying such a long distance, and I've always wanted to travel to the U.S.
I haven't been to the U.S. yet, and I'm very excited to be able to make up for that even in conjunction with my art. I am especially looking forward to meeting Cornelia in person. The person behind all the wonderful stories that got me reading and inspired me in my childhood and youth. My first book by her was "Drachenreiter" and is still one of my absolute favorite books. I will also enjoy sharing with the other artistic souls and the panorama of nature. Nature and the animals that surround me here in northern Germany every day are beautiful. But they are part of my everyday life. To experience flora and fauna of another continent up close will be a unique experience for me. I'm already looking forward to incorporating all these impressions and encounters into my artistic work.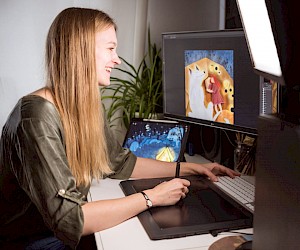 Before Corona made the trip to the U.S. impossible, did you have any specific plans for the week in California, e.g. a project you wanted to tackle or finish there, etc.?
Right now, I work almost exclusively digitally. Sometimes I miss having a brush or colored pencil in my hand. In digital, nothing is random anymore. Everything can be undone. But on a beautiful canvas, every stroke has to be thought through, or maybe not. Chance sometimes creates the best results.
Perhaps I'll find a way back to analog media in California. And my iPad may then be happily gathering dust in the suitcase! Try something new and get out of the comfort zone. Just off the cuff, wholly unbiased and without concrete goals and plans. I want to be inspired by the impressions and people on the ground and see what chance brings with it.