Miró Tiebe
Art student at the Hamburg University of Applied Sciences (UAS)
Born in the Sauerland region of Germany and raised near the city of Oldenburg by Bremen, Miró moved to Hamburg a few years ago to study. Miró is one of ten artists to whom Cornelia, her German publisher Dressler Verlag, and the university have awarded a scholarship for a stay at Cornelia's farm in Malibu. The students were invited to make an illustration of a story from Cornelia's Reckless World.
Website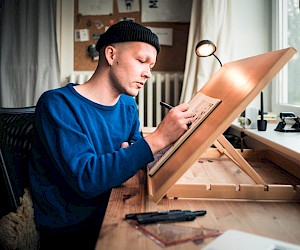 What brought you to art?
I have always loved drawing and painting. To relax and to pass the time. At the age of seven or eight, I once painted a complete roll of wallpaper, with a series of some crazy dragons. In the fourth grade I was diagnosed with dyslexia. That seems logical to me today, I actually painted the letters, I didn't know what I was doing.
At some point I found out for myself that art was my means of expression. And I always received support and positive feedback. From my family, from my teachers, from classmates and friends. I recently showed my grandma a drawing I did for my bachelor's thesis, and she looks at it soberly and says: "Oh, Miro, I think it's great that you're doing it all this way and I definitely stand behind you, but I don't understand it. I don't have to understand that either, but I think it's good." "Grandma", I said, "all well, don't worry about it, I'm very happy that you're behind me like this".
My mother has always been a constant support for me. I'm a perfectionist, I cut out drawings from my sketchbooks that I don't like. My mother used to always pull them out of the trash and keep them safe. In the eleventh or twelfth grade, my painting and drawing teacher asked me if I could help him with his lessons. So I taught my classmates, who all took it well. Then I spent a year at the art high school for the vocational baccalaureate and also got great feedback there. This of course strengthens my determination and stamina.
After the vocational baccalaureate, I applied to many universities and was rejected everywhere. For most of them my portfolios were not specific enough. Then I heard that there are portfolio interviews in Hamburg. You go there, show your portfolio, get suggestions from students about what you can do. There they recommended me to bring in some more colorful things, watercolors, portraits, etc.. Finally I was invited to the entrance examination. And about a year ago I did my bachelor's degree at the University of Applied Sciences. For the theoretical portion of my Bachelor thesis, I wrote a sociological treatise on de-escalation during protests. As part of this work, I also created my transparent shadow masks, which let us see the person behind the mask (demonstrator mask or police helmet on the opposite side).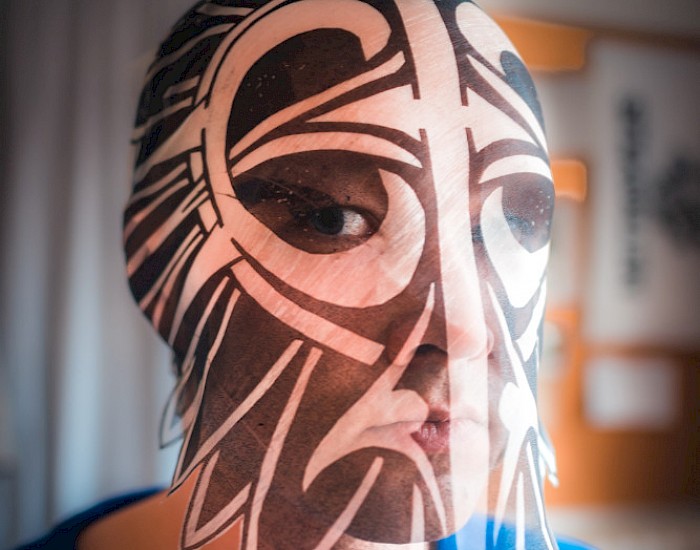 How did you get the opportunity to participate in Cornelia's "Artist in Residence Program"?
There was an announcement at my university. I had only noticed it through a fellow student who said: "There is a competition, it doesn't really sound like our direction, Miró, but you can travel to LA and you can get to know Cornelia Funke! Of course I found that attractive. I knew Cornelia. Although my dyslexia did not make me so attached to her books, I knew the audio books and the films. "Inkheart". I loved the story, the idea behind it. And "Pan's Labyrinth" also impressed me. I've been devouring fantastic stories since I was little. When I was four, I heard a radio play about "Lord of the Rings" for the first time.
This is still my favourite radio play today. It was incredibly well set to music. And since then I've been devouring everything that's fantasy. "Harry Potter", the Discworld of Terry Pratchett, "Game of Thrones", ... Because of my dyslexia I'm of course not the big reader, but I still have many books, because I love the book as a medium, as an aesthetic thing, as an object. And I find it admirable how people manage to put pictures into words.
When I drew the design for Cornelia's competition, I was very concerned about whether I shouldn't put more emotion into my style. I had worked very strikingly before. For my bachelor thesis I dealt a lot with techno culture, drew posters and screen-printed them on 100 x 70. They're impressive and you can see what it's all about, but they're very objective, there's never any interpersonal level to be seen. That disturbed me. Then I submitted the work for the competition and Cornelia's comment on it was exactly what I wanted. She had written that she finds it impressive how I manage to package the situation and the mystical, fairytale-like through my organized and graphic-stylistic work.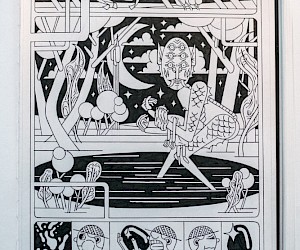 How did you like your time on the farm? Did you find inspiration there?
That was right, really radical. I also wrote Cornelia a long letter when I was back in Hamburg. After my arrival in Malibu I suddenly felt like painting. There was this energy. And when I paint, I am energetic, stay awake for nights. Cornelia gave me an old canvas and I started. And I didn't work at all in the style I worked in the drawing. I just didn't think about stylistics anymore, and that was good for me. That was very inspiring back then.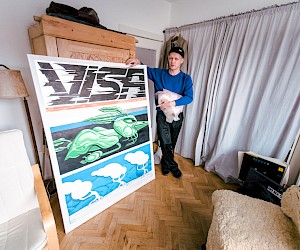 What did you take home from there?
I came back to Hamburg and was totally in the film and thought: Now I have to continue drawing and painting like I started in Malibu. That's really good for me. Since my return I have had the feeling that this is exactly what I am. Before Malibu, I had shut myself off. The stay on the farm gave me a new strength and the will to do so. And since then everything has been going very well. I get requests for various projects.