Ruby Warnecke
Art student at the Hamburg University of Applied Sciences (UAS)
Ruby was born and raised in Lübeck. After graduating from high school, she moved to Hamburg, where she began studying illustration at HAW Hamburg in 2015. In 2019, she completed her bachelor's degree with her own children's book project. A semester abroad at MICA (Maryland Institute College of Art) in Baltimore — the country and the different way of teaching and learning — was an enrichment for Ruby in her artistic career. She is currently pursuing her master's degree in illustration. While still a student, she started her own business in 2017 and has since worked as an illustrator in children's and picture books, stationery, and hand lettering.
Website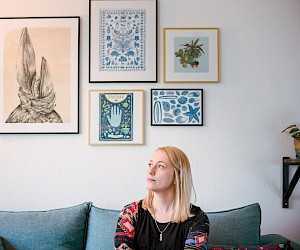 What brought you to art?
Even as a child I was always creative, painting, drawing, sewing bags from old clothes, weaving or making up my own stories. There was no one moment that sparked my interest in art. Art, meaning painting, drawing, being creative, has always been part of my life. It is a place where I feel at home and to which I can always return. Art relaxes me and at the same time always presents me with new challenges!
As a result, it was clear to me early on that I also wanted to do something creative professionally. I couldn't imagine any other option. At first I thought of studying product or fashion design, until I finally heard about the illustration program in Hamburg. The many subject areas that illustration has to offer were the deciding factor in my decision to apply there. I was also simply impressed by the talent and range of artistic expression of many illustrators. At HAW, as at many other art schools, you apply with a portfolio, a selection of your strongest artistic works. For this purpose, I attended a preparatory course, which strengthened my decision. There we received inspiration and input for the portfolio on the spot and painted, drew or collaged.
At the beginning of the course, I tried out a lot, experimented and gained insights into the different areas of illustration. Meanwhile, I developed a special interest in book illustration. It fascinates me to create my own (pictorial) worlds in this context, in which the reader can immerse himself. Working on a book takes many weeks or months and represents a very intensive examination of a topic or a story. I find this focused and intensive project work very appealing. It's also nice to hold the finished book in your hands later.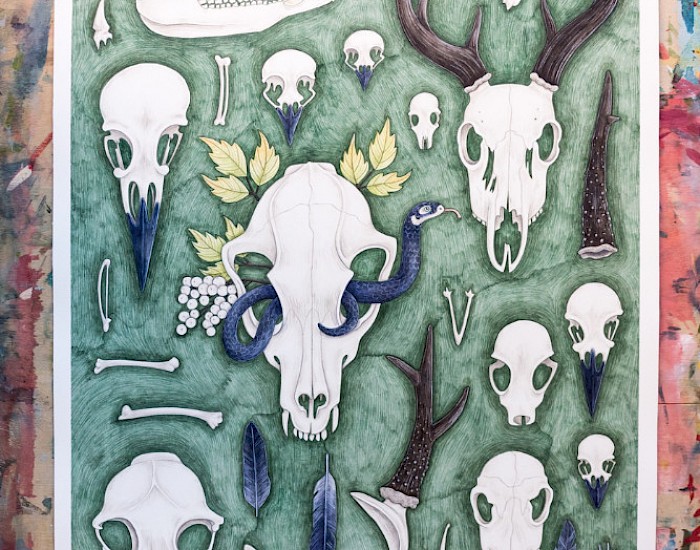 How did the opportunity arise for you to participate in Cornelia's "Artist in Residence Program"?
At our university, there was a call for entries from Cornelia's foundation "Rim of Heaven", in cooperation with Dressler Verlag. We were given a few text excerpts from the "Reckless" universe to choose from, one of which we could illustrate. It was important to me not to depict the obvious, but to venture my own interpretation.
Besides sunscreen and slippers, what do you need in your suitcase for the trip to Malibu? And what do you dream of from your time on Cornelia's farm (have you ever been to the USA/California before)?
Definitely need to bring sketchbook, notebook, some tubes of paint and lots of pens so that new ideas can be captured immediately! I'll also be packing my iPad, which is where I do a lot of my illustrations.
From the stay at Cornelia's farm, I hope to recharge creative energy and take away inspiration from all the new impressions. Maybe I'll also travel back home with one or two ideas for my own creative projects, that would be nice! I want to approach this experience with an open mind and open to new things. I'm especially looking forward to interacting with other creatives, and getting to know the animals on the farm!
So far I have been to the US twice, but on the east coast. Which is why I'm really looking forward to getting to know the west coast! I imagine the giant redwood trees will be particularly impressive, and I look forward to learning about the native flora and fauna. Following my stay with Cornelia, I would like to travel and see some of the National Parks on the West Coast.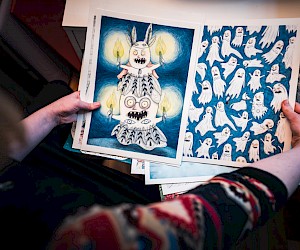 Before Corona made the trip to the U.S. impossible, did you have any specific plans for the week in California, such as a project you wanted to tackle or finish there, etc.?
Since I was able to work on some larger publishing projects this year, I wanted to use the time in California mostly for myself and my own projects. I'd like to do a lot of sketching and photography to create a body of images to draw from later. At the same time, I'd like to explore local nature through drawings and sketchbooks. So the trip would be all about getting to know new things, collecting impressions, drifting and discovering the unexpected.