Julia Nüsch
Illustrator from Hamburg, Germany
Website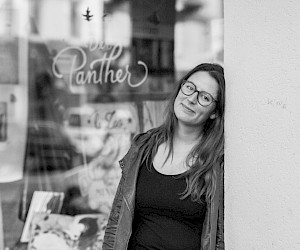 Why did you become an illustrator? Did you want to be an illustrator as a child?
I didn't know the word 'illustrator' as a child, but I always wanted to tell stories, and I always wanted to tell stories with pictures. I've always been drawing.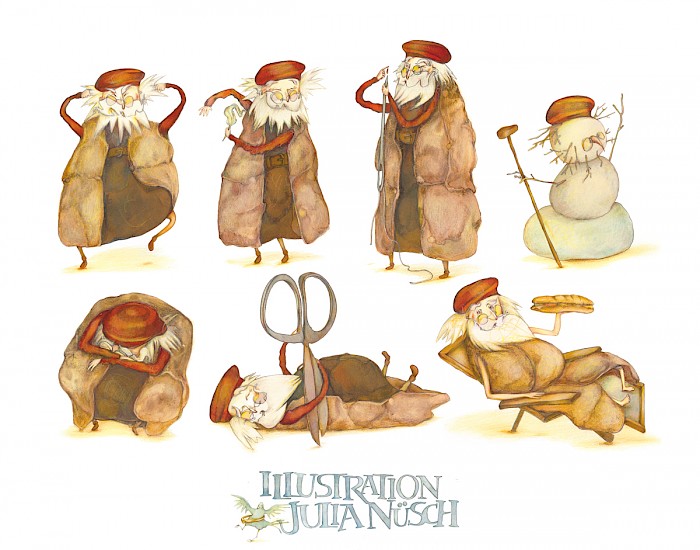 What does a workday look like for you?
When I get a job, I'm very excited at first, and I get something akin to stage fright. In my studio, I sometimes sit in front of a blank sheet of paper for days on end. Then I usually take care of my graphic jobs first, while sketching on all sorts of scrap paper or on the back of invoices and so on. At some point, I will have the courage to go back to my drawing table, and usually, the inspirations will come of their own accord. I have two tables, one for drawing and my watercolors and one with a view of the dike, where I do my computer work and daydream out of the window. Once I am really into it, I never stop drawing. Often, I work until late at night, and then I sometimes stay on the couch in my studio overnight.
Are there illustrators who influenced you?
Yes, very many. I collect beautifully illustrated books, and I love inspiration. As a child, I used to look at my father's drawings over and over again. That influenced me a lot and made me want to be able to draw that beautifully one day.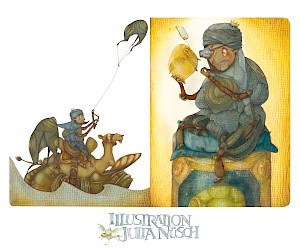 What was your very first illustration?
When I was a child, my sister and I made new sleeves for all the audiotapes with our favorite stories. We had often simply lost the originals. From Bibi Blocksberg, Benjamin Blümchen, Heidi to Momo, and Jim Knopf, everything was there. During our camping vacations at the Baltic Sea, I laid out the ground of our tent porch with A4 sheets glued together and drew a vast underwater world with countless creatures. Which I had cut out before. Years later, we would still find little paper mermaids and numerous monsters in all kinds of corners. However, I don't remember which came first, the tapes or the underwater world.
What inspires you? Where do your ideas come from?
It's very varied. Sometimes I dream something beautiful, sometimes my eyes are so bad that I misinterpret what I have seen and come up with entirely new ideas. When it's about a specific assignment, I tell myself the story in my head over and over again and wish very hard for an idea to come to me. At some point, it happens.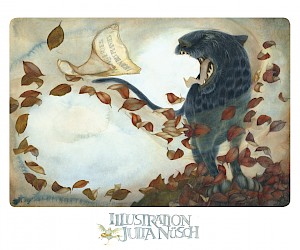 Do you have a personal favorite illustrator, a favorite female illustrator?
When you illustrate, do you listen to music or audiobooks or do you prefer quiet?
I'm not allowed to concentrate on my work when I'm drawing. Otherwise, it won't work.
I always have to be half distracted and preferably deeply immersed in stories. In my studio, there is constantly an audiobook, a video, or a TV series running in the background. I usually don't watch them, but I imagine the pictures while listening to them.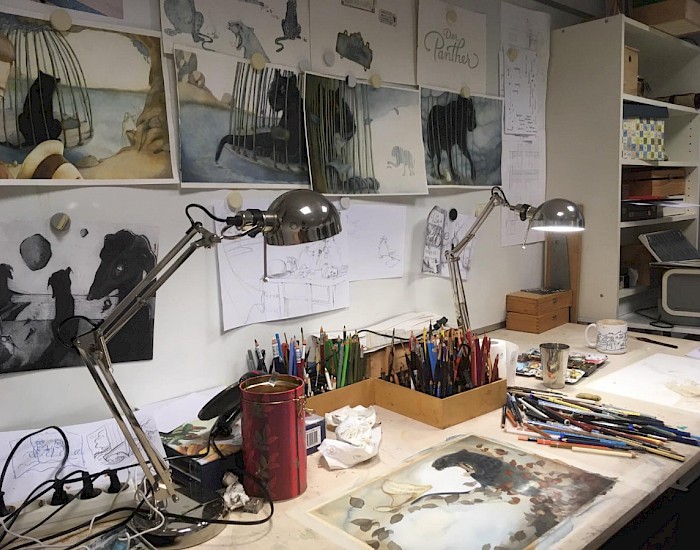 Do you have a favorite place to illustrate?
Yes, my drawing table in my studio. I also drew some of my pictures at the Baltic Sea when there was no wind. That was nice, but the conditions are too rarely that good.
Is there a story you would like to illustrate?
Oh yes. A story by Michael Ende would be nice. Or Pippi Longstocking, or a fairy tale, or, or ... One of my biggest wishes is coming true right now because I'm currently working on illustrations for my own story, which will be published in spring 2021. A story must be dreamy and/or funny. Then I immediately get the desire to illustrate it.
Is there an illustration you are especially proud of?
Yes, I do find my panther very beautiful myself, and I keep wondering, did I paint that?
I also like the Prince of Morocco and the Doge from the "Merchant of Venice".
When you' re not illustrating, what do you like to do?
Sleep, walk, travel, bathe, swim, and invent stories.
What defines the profession of an illustrator in your mind?
The telling of stories with pictures that arise in the mind's eye while reading. The challenge is to put those images on paper. Sometimes this results in something completely new, which is very exciting for me. Maybe it's comparable to pottery, where a form is peeled bit by bit. Once in a while, a form peels itself out of the paper bit by bit. I feel as if the illustration creates itself. I have little more to do with it myself.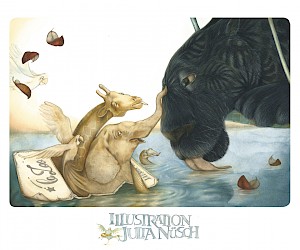 Do you sometimes simply not feel like drawing/painting? Do you have to motivate yourself then? And if so, how do you do it? Is there such a thing as writer's block for illustrators too? A creative blockade of some kind?
Yes, definitely — and an intense fear of pages, the fear of starting. Unfortunately, I don't have an antidote for it. I hope to solve this mystery sometime.