Nancy Vo
Illustrator from Canada
Website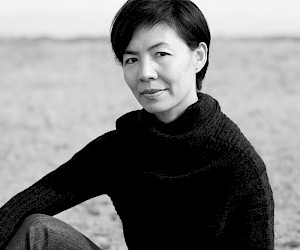 What was your very first illustration?
Oh, I would love to know what I first drew! I am sure that drawing no longer exists, it was such a long time ago. I can recall in my kids' drawings how they were so unafraid of using the whole page, and how they were saying the stories aloud as they drew. That artistic fearlessness is something I still wish I had as an adult.
Do you have a favourite illustrator/artist/author?
If I go back to when I seriously started to work on picture books, it was Jon Klassen, Kris Di Giacomo, and Shaun Tan. They are still favourites, but they have more company now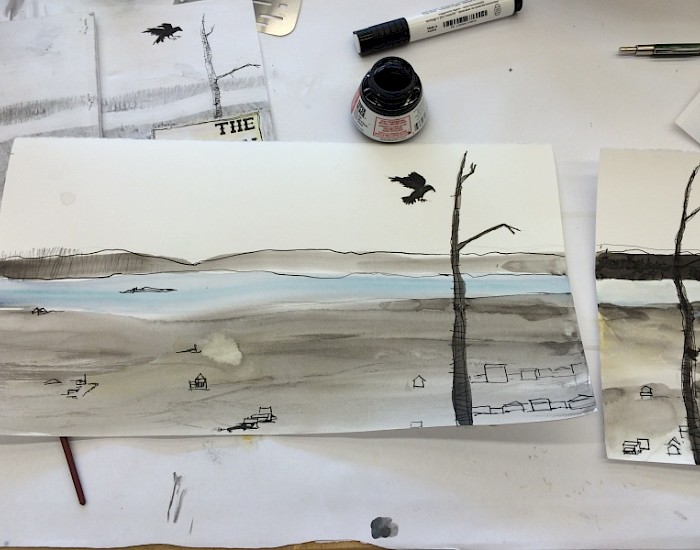 Do you have a favourite place to work?
I would love to be in a studio like the one I rented two years ago. It was in a building next to the railroad and an old sugar refinery. It had fantastic skylights for natural light, and rooms where other artists worked on their film projects. It was a super productive time – two months from start to finished drawings for that project. This year, with the pandemic, we have all had to find creative ways to use the spaces in our homes. For me it is a small condominium and I am currently working from a low bookshelf or at the kitchen table. Basically, any unoccupied flat surface will do.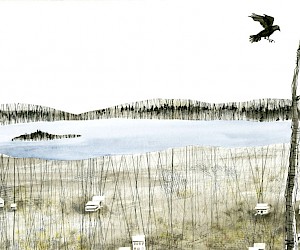 Is there a particular story you would love to illustrate?
Before the current project that I am working on (a story written by Sarah Ellis about the pianist, Glenn Gould), I might have answered differently. Now I am so grateful for the learning I would not have forced myself to do had it been a story of my own choosing.
I have gone on all kinds of side trips and even learned to play the piano – badly, but still ...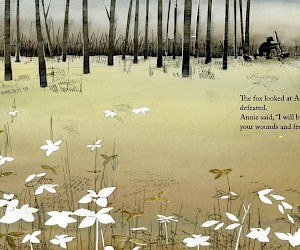 What was your favourite illustration you have made so far?
I had one last drawing to do, and I had not landed on how I was going to solve it. Then, I had an inspiration, and it was from a Coen Brothers movie that I had not watched but remembered the movie poster so well because of how it made me feel. It was, Miller's Crossing – a man is kneeling in the woods begging for his life from another man standing with a gun. It was the solution I needed for the tense encounter between Annie and the fox (from my story "The Ranger") and not knowing how it would turn out. So instead of a close-up, we get a far away, below eye level shot of the scene.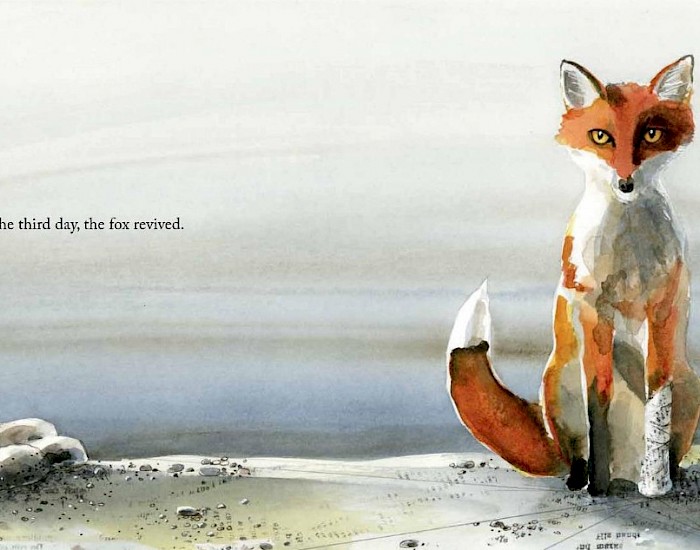 What makes the art of illustrating special to you?
I like the problem-solving aspects of illustration. It is different from making a piece of art only as a form of self-expression. That is not to say that you cannot express yourself in illustration. But I think that illustration is about communicating something specific. With picture books, you are communicating something sequentially, telling a story. Usually there is the interplay of words and pictures. There is a need for both elements to work together and not merely reproduce in pictures what words are saying. Illustrations can add another layer to the story, or tell the story when words are not there, as with wordless picture books.