Oksana Bula
Author and illustrator from Ukraine
Website
What brought you to illustration?
Being a kid I liked to make up stories. I was doing that all the time. I wrote thick textbooks with pictures and letters and I imagined myself making movies. And with time not much had changed, except for the idea that if you are writing something you should find a publisher. This idea seemed scary to me. I could not imagine my books being "real books". And then some interesting coincidence happened. My friend translated a novel and asked me, if I wanted to illustrate it. She didn't have a contract yet and was looking for a publisher, but I agreed just because it sounded awesome. At the time, I already had some drawings and ideas of the Tukoni in my desk drawer. I was about to produce some postcards and handmade character brooches. Someone from the publishing house saw them and contacted me with the offer to illustrate for them. At the very same time my friend agreed to do her book with the very same publisher. Suddenly I got two independent illustration projects with the same publishing house! The work was awesome, and the publishing house wasn't scary. So after a while, I dared to show my own picture book project. I was ready to get refused, because picture books in Ukraine at that time were kind of unknown territory. But the publisher liked my idea about the Tukoni world and the picture book format.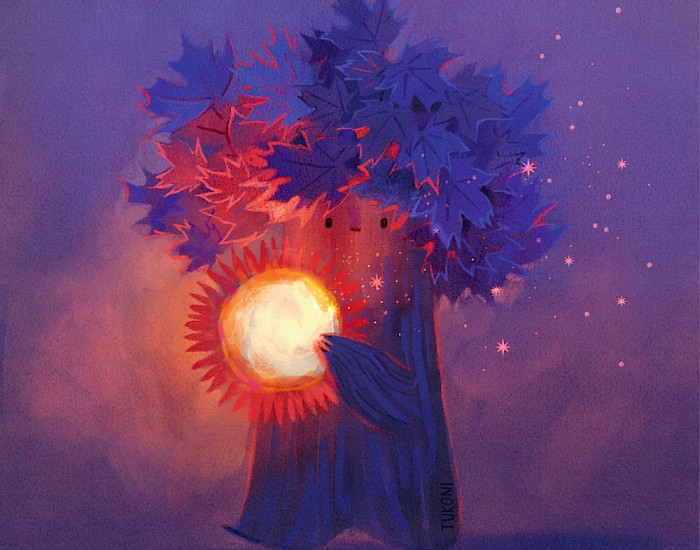 Are there any illustrators who influenced/influence you?
When I was around six years old I got a gift — a coloring book made by Ukrainian illustrator Natalia Komyahova. It was titled "Autumn". That coloring book was like a pure forest inspiration. So delicate in mood, like you could smell the leaves, hear the trembling aspen, see the bright blue sky and birds crossing it in a farewell flight. This coloring book definitely influenced me forever.
I like works by Amélie Fléchais, "Le Petit Loup Rouge" is my favorite and inspired me a lot to improve my watercolor skills and experiment with a picture book and graphic novel format.
Also, I love the emotionally detailed storytelling of Japanese manga.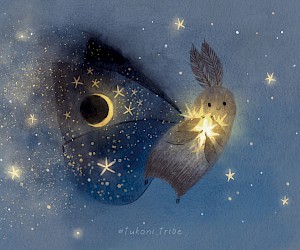 What inspires you? Where do you get your ideas from?
I clearly remember the day when the Moth character was born. Back in the day, I guess in 2015 maybe, I had limited internet access and saved some beautiful animal pictures on my computer. So I found a macro photo of a silk moth. And that was that! A strange fluffy creature with beautiful black eyes. The wings' patterns on the photo looked like a woven blanket to me. I drew some pencil doodles, then watercolours, I showed moth characters at the exhibitions. People always asked me "Is that a rabbit covered with a blanket?" and I answered, "It's a moth. A moth from the tukoni forest".
I never saw or read about moth characters. To meet something really new at my desk made me feel so inspired. So if any illustrator or author asks me how to invent a new character, I would recommend never drawing from someone's illustration, but trying to be inspired by nature. Draw real animals or plants, and think about how to stylise them, because the pure gold inspiration is in nature.
When the moth characters appeared in my forest I found a place for the things I loved so much, but previously couldn't use organically. The Moon and the magical twilight. I always saw the Tukoni as Sun friends — the same as trees they feed from its rays. But who would settle in my favourite magical night world? With time all the forest characters started to organise around the moths.
So, my answer to your question is: nature. And ... work process itself.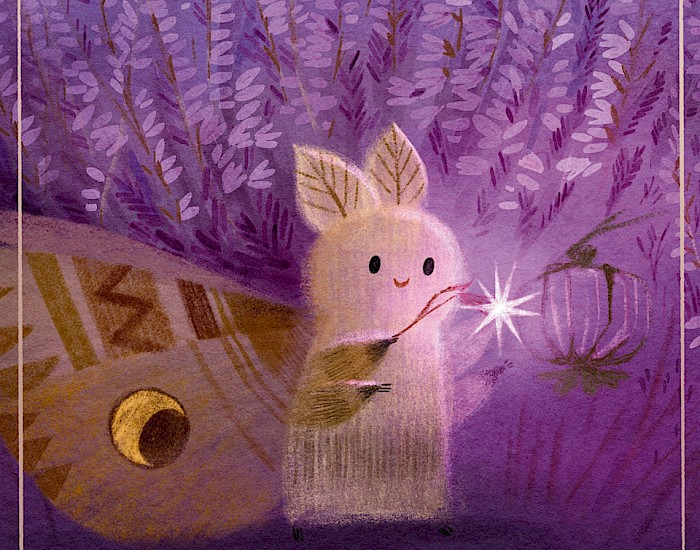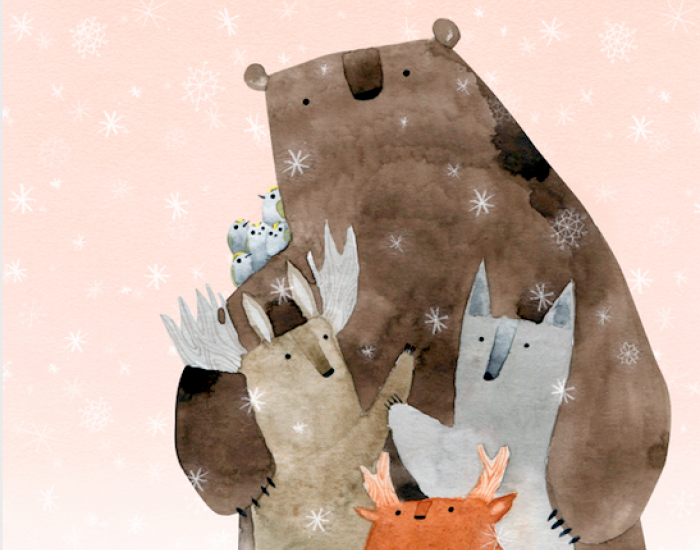 Do you like listening to music or audio books while working or do you prefer silence?
Actually, silence is the best option. But music is also very important. Some specific tracks may associate with specific characters, like soundtracks with some stories. Listening to them I can suddenly halt and fully dive deep down into my imagination movie. So I avoid listening to tracks "from one of my stories" while working on "another", because it could unsettle me.
Is there a particular story you would love to illustrate?
I'd like to illustrate "The Forest Song" written by Ukrainian activist writer Lesia Ukrayinka. It's a fairy drama based on absolutely spectacular native mythology.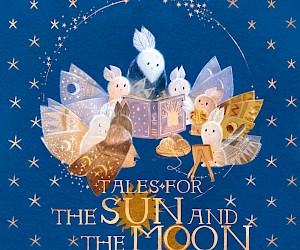 What was your favourite illustration you have made so far?
That's the "Moths Gather Stars Series". I was preparing the conception of "Tales for Sun and Moon" for years and tried not to spoil it. But that was so hard, so I showed my moths a little bit earlier. The development of the Tukoni moth character took a long way from 2014, I guess. Firstly there appeared "Gray Moth" with the yarn ball as the master of magical blankets, and then I showed other moths as collectors of light.
What can you be found doing when your are not illustrating?
Reading. Watching leaves and grasses. Sometimes I think I can spend a life just sitting and watching nature.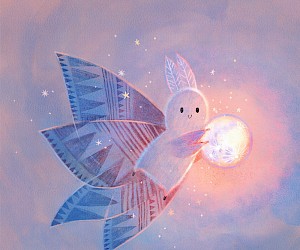 What makes the art of illustrating special to you?
I had all that stories with me and realized that turning them into movies is a hard task. So what at least could I do? I could make a graphic novel. So I told the story of "Gray Moth" in that format. As an illustrator, I can share the scenes from the Tukoni world with others almost as if I had made a movie.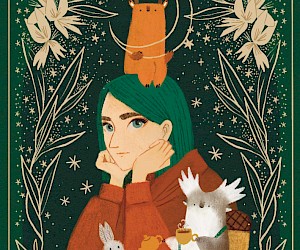 What makes a good illustrator?
The respect for other artists! Instagram in particular, social media gave illustrators the opportunity to reach an audience independently. Few years ago you needed to organize an exhibition to show your work and it needed years of book promo campaigns. Now you can show people your art the day you have created it. I see online illustration schools appearing every day. And the key point that became important is "how to reach more views, more likes as quickly as possible". No one talks about copyright or simple respect for other artists. The success recipe is "look what others draw, choose the style you like, and just copy that".
Learning from others is okay, but giving credit is important. And I think instant copying isn't the way to create something new. To create is a hard way of mistakes. Art courses with the slogan "this is a hard way, you will not have easy years ahead" would not sound attractive. So I think "a good illustrator" should be respectful towards the work of other artists. Especially because this is the best way to find your own original voice.
Do you struggle sometimes? Do you have to motivate yourself, and if so, what helps? Is there a kind of "illustrator's block?"
It is not a secret that Russia brought struggles to Ukraine no one can imagine. Previously I had some kind of artist's blocks and that was scary. Like: What if I could not draw or write ever again? But on the 24th of February, no matter how much you like stories and forests and art, there was one task: literally to stay alive. To help others stay alive. In a modern world of diversity and desperate attempts to save nature, the experience of being A TARGET for missilery, tortures and cruelty just because you exist, have some history, and speak some language (which some people think you should not) is beyond any imagination.
And as strange as it sounds, even in this war and genocide, if you somehow manage to stay sound, you can draw. That's a very interesting case of motivation.
I'm trying to analyze why I could draw during the first month of the war. I couldn't talk calmly, but my hands stopped shaking when I started to draw. I wrote a story of forest dwellers defending against a Crimson Beast. My family and friends were hiding in basements and metro stations from missile attacks. I thought if someone, especially with kids, spending days in the shelters, had the possibility to check the internet, maybe they would see my story. And maybe at least a little, little tiny bit it could cheer them up. So there you have a strange way of how illustrations sometimes can be born.