Torben Kuhlmann
Illustrator and children's book author from Hamburg, Germany
Website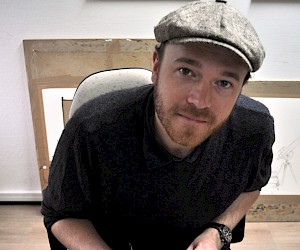 Why did you become an illustrator?
I would like to say that I felt a calling to illustrate. Since early childhood, I have been passionate about painting and drawing. The choice of motifs was often determined by my childlike curiosity. I wanted to investigate and explain things with a pencil or tell little stories about them. So, I was already an illustrator as a child without knowing it. This interest remained unchanged for many years, perhaps further fuelled by a growing ambition for storytelling and enthusiasm for the medium of film. This led to the somewhat bold decision to turn this passion into a profession and study illustration in Hamburg. To this day, I love to tell stories — whether with a brush, pencil, keyboard, or film camera.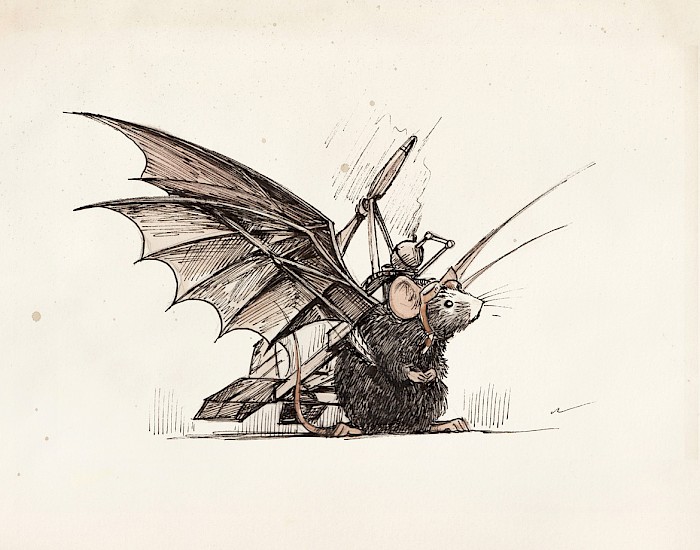 What does your working day look like?
The ideal working day starts with a short bike ride in and around Hamburg, but the weather has to cooperate. I try to sit at the drawing table or computer sometime during the morning. I like to use the morning for things that have nothing to do with my job. In return, I regularly work well into the evening. I don't have fixed studio hours. A typical studio day can last ten hours or more when I'm involved in book projects or commissioned work. I'm fortunate that I feel very comfortable at my drawing table and often don't even notice the passing of the hours. I sit bent over the watercolor paper most of the time, surrounded by brushes, paint pots, watercolor boxes, and drawing pencils.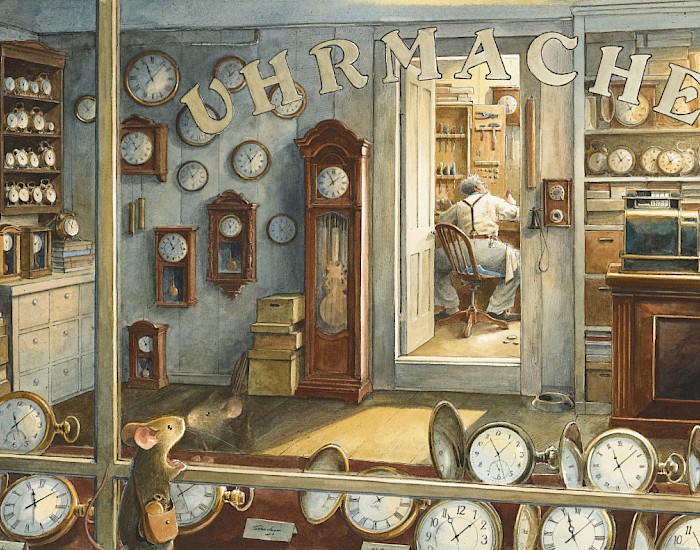 Are there any illustrators who have or continue to influence you?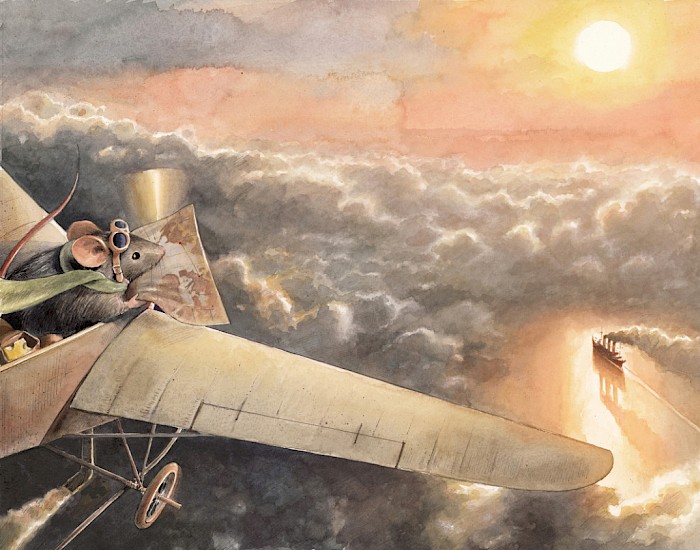 What was your very first illustration?
I consider my first major commissioned work and publication my starting point. While still a student, I had the opportunity to create an infographic for Stern magazine, although the term is not entirely appropriate here. Instead, it was a historical reconstruction of Christopher Columbus' fleet of ships, made with a pencil, watercolors, and a computer. Everything before that fell more into the categories of commissioned painting or hobby. As I said above: I have always been illustrating in some way or other. But this publication was the first time I was given proper credit: Illustration by Torben Kuhlmann.
What inspires you? Where do the ideas come from?
This is difficult to answer. In most cases, inspiration appears out of nowhere, but it often happens when my mind is somewhere else. I have the best chance of finding inspiration or ideas during long walks by the sea or extended bike rides through natural or industrial landscapes. A rather run-down car repair shop, for example, led to the first image ideas for my mouse adventure, "Edison." The sometimes somewhat absurd-looking backdrop of chimneys, pipelines, railway tracks, and cranes of Hamburg harbor certainly influenced the visual language of my "Mole City." I also find inspiration in museums and art exhibitions, if only because they fuel my desire to paint.
Do you have a personal favorite illustrator?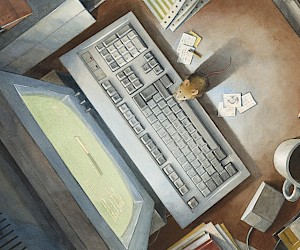 Do you listen to music or audiobooks while illustrating, or do you prefer silence?
It depends on the phase of work. When I'm writing texts, I really need silence, but an indefinable jumble of noises in the background doesn't bother me. I've written in cafés, at airports, or on trains. I also need total concentration when conceiving the storyboard and working on the story. So I sometimes just add music that fits the mood of the story. But when I'm illustrating, i.e., working out the pictures, I like to listen to podcasts, audiobooks, or documentaries. Sometimes I just have YouTube playing in the background with videos about films, comics, art, or history.
Do you have a favorite place to do illustrations?
My little drawing corner in my studio. In fact, I do my most focused work there because there aren't too many distractions around it: Just a tabletop, a daylight lamp, different colors, glasses, pens, and brushes.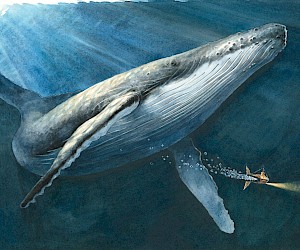 Is there a dream story you would like to illustrate one day?
Of course, there are several fantastic stories I grew up with. I can't deny that there is a latent fascination with illustrating one of them. However, there are several hurdles. First, there are already superbly illustrated editions or cinematic adaptations of many titles, so I don't see the need for another visual interpretation. And then there are stories that already magically create a world in the mind's eye with only delicately chosen words. A classical, realistic illustration of the same world is not needed, for example, in some of my favorite books like Bram Stoker's "Dracula" or Neil Gaiman's "Coraline." In this respect, I am thrilled to tell my own stories and to be able to decide for myself what the text tells and what content and moods the illustrations should convey.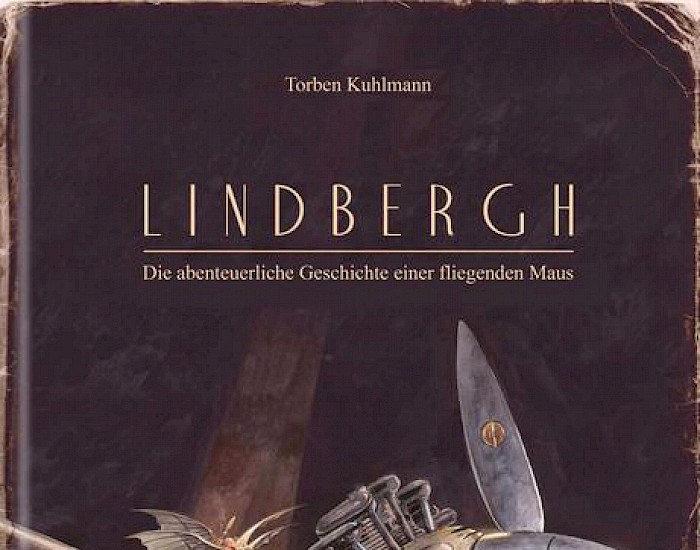 Is there an illustration you are particularly proud of?
I do indeed like some of my cover illustrations, whether for picture books or novels for young people, for example, the works for the Frida Nilsson titles published by Gerstenberg. But if I had to name a definite favorite? I am pretty proud of the idea andthe realization of the title illustration for the mouse adventure "Lindbergh." I am pleased that this rather unusual composition with an airplane that can only be partially seen, a tiny mouse, and a spotlight somehow worked. And a quick addition: in general, I quite like my quick, first sketches. Something that also applies to the work of many of my colleagues. I have a particular preference for the sketching phase with them as well.
What is it about being an illustrator that makes it unique for you?
The passion for telling a story. As an illustrator, I see myself first and foremost as a kind of storyteller; after all, I stage stories with whatever means I have at my disposal. However, passion is also a well-chosen term here because the profession also always creates suffering. I, for one, find myself battling myself from time to time. Sometimes an illustration doesn't turn out as desired, sometimes an idea is missing, and sometimes I question my work far too critically. It's always a dance between stifling frustration and great euphoria.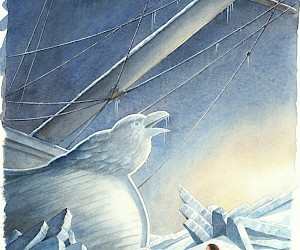 In your opinion, what makes a good illustration?
A good illustration should not just be a pretty addition, a piece of jewelry, to a story. Still, it should best establish itself as an essential narrative component. A good illustration can get to the heart of a mood or a particular atmosphere or add enormous value to a short sentence or a succinct statement through composition, lighting, mood, and point of view. At best, illustrations are not just decorative but also an inseparable part of storytelling. And with a bit of luck, they function as a picture on the wall, detached from text and actual function.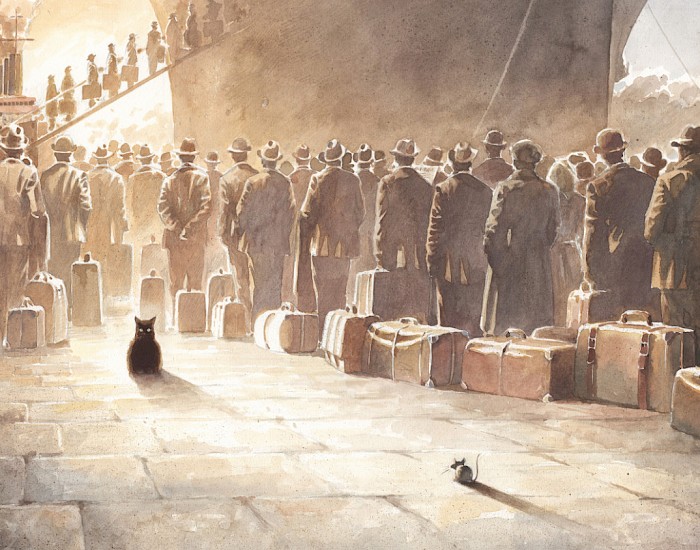 Do you sometimes just not feel like drawing/painting? Do you then have to motivate yourself? And if so, how do you do it? Is there something like writer's block among illustrators? A kind of creative block?
These blocks exist in drawing and painting as well as in writing. It feels like the inspiration in reverse. When the creative spark is there, it feels like you just have to arrange all the abundance of words or strokes and colors. But everything is already there and only needs to be put into shape. This arranging can't happen fast enough, and you get into an almost meditative working process. In a blockade, this smorgasbord of words, spots of color, strokes, and lines is missing. One tries to draw from a void, and naturally, you can't fill a sheet of paper in this way, neither with letters nor with strokes. I also cannot get out of this situation by increasing the pressure to work harder and harder. That only increases the frustration. Distance is the best recipe — especially a physical distance from the drawing board or writing pad. Frustration and pressure have to disappear. Sometimes it's enough to sleep on it or do something entirely different for a day. So far, fortunately, I have been able to tear down all the blockages.