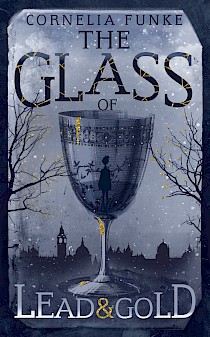 The Glass of Lead and Gold
In a land of elves, mermaids and trolls, true magic is where you least expect it…
In the snow-covered city of Londra, young Tabetha survives by finding treasures in the mudbanks of the river Themse. On Christmas Eve, a sinister stranger asks her to keep her eyes open for a priceless, long-lost magical object: the Glass of Lead and Gold.
As word of the Glass spreads across the city, Tabetha finds herself with some unlikely companions, not least a one-armed girl and a rather impressive soup chef. But will Tabetha discover that there are even greater fortunes to be found than the magical Glass?
First published

2018

Reading age

Age 14

Illustrated by

Cornelia Funke

Publisher

Pushkin Press
It had been snowing all night, the flakes swirling down on Londra as if the stars were falling from the sky to make the city shine for Christmas Eve. The snow had covered the cobblestoned streets with so thick a blanket that it hushed all the sounds the city made while waking, and its softness made Tabetha nearly forget how cold it felt beneath her worn-out shoes. The narrow alleys she took to get to the river bank were the same as every day, but today the grimy houses lining them looked like they belonged in a baker's window: the roofs covered with icing, the chimneys puffing powdered sugar into the slowly paling sky. For a moment, Tabetha could almost believe that as the snow melted it would take away all the ugliness and sadness underneath. Maybe then, Londra would emerge as the shiny, magical place Tabetha's mother had told her about every night, when they'd still lived in the village by the sea.