SCINTILLA: ESMoA exhibition of the work of Cornelia's Artists in Residence
ESMoA, Los Angeles: The El Segundo based Experimentally Structured Museum of Art is pleased to collaborate again with Cornelia for the upcoming "Experience 53: SCINTILLA", April 27-September 16, 2023. For many years, Cornelia has inspired younger artists to find their own way into the world of storytelling. "Experience SCINTILLA" takes the opportunity to dive into this incredible network of young talent. Through the works on display, visitors can experience how an inspiring environment of like-minded people and an environment in magical places like Bonsall in Malibu or now Fraggina in Tuscany can be activated for a new generation of storytelling. SCINTILLA will showcase a wide variety of incredible works. Visual poetry pairs with expressive storytelling. Intricate drawings are juxtaposed with spirited woodcuts. Vibrant puppet sculptures find a way to artistic tarot cards. ESMoA is certain that SCINTILLA will open the door to everyone's imagination. For those unable to make the trip to LA, the ESMoA.org website will provide an opportunity to at least get a glimpse through a virtual tour.
Cornelia is one of the newly awarded RSL International Writers
The Royal Society of Literature is the UK's charity for the advancement of literature. The RSL International Writers programme celebrates the contribution of writers across the globe to literature in English through a new, life-long honour, recognising the power of literature to transcend borders and bring people together.
An Email from the frozen world
How is Cornelia's book "Dragon Rider" related to Antarctica? Two new (and very special) articles in our "Stories" section unravel the mystery . Curious? This way, please ....
My new favourite writing table... :)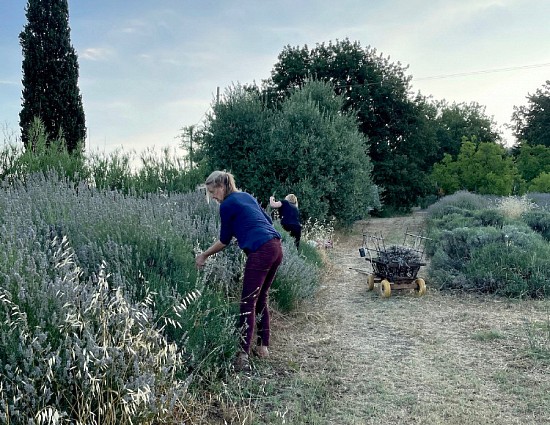 Lavender harvest at a friend's farm. From 6-8 before the bees come!:)
STORIES
A new section for Cornelia's website
For over a decade of corneliafunke.com we have been telling stories about Cornelia and her books.
The most interesting ones you will find in our new "Stories" section. Enjoy!
Draw A Bird Day
Draw A Bird Day is April 8th of every year. It is an unofficial holiday, but it has been celebrated for over 70 years. It originated in the United Kingdom. You can find the background story HERE. On Instagram we asked Cornelia's followers to share their birds with us. And here they are! Thanks to Andrea, Nadine, Ani, Nelly, Jana, and Elli >3
Draw A Bird Day Birds - back for more
Dear Readers!
I've read so many books in my life that one could fill a library with it (well, I did read half of the library in the small town I came from) and they all taught me something about writing and story telling.
But there are a few that were unforgettable and so wonderful that I want to read them over and over again. I can't list them all – luckily there are many of them. Here is a small but precious selection.
Next page
T.H.WHITE: THE ONCE AND FUTURE KING

The best fantasy book I know. Sad and funny, silly and wise. I wish I had written it.

W.GOLDMAN: THE PRINCESS BRIDE

I wish I had not read it yet so that I could read it again for the first time! Though it enchants me each time I read it again. One of the best villainS ever in there and for sure some of the best heroes. And no, life isn't fair.

DAVID ALMOND: SKELLIG

"Skellig" is the story of a boy, who finds an angel in a rattly garage. Well, the creature kind of looks like an angel, but ... (this one, for example loves Chinese food and dark beer!).  He is anything but fair and bright, but he is one of the most impressive angels I have ever found in literature.

NEIL GAIMAN

Well, I really don't know which of his books I would recommend first: "Neverwhere", "The Graveyard Book", "Stardust"? I love all of his stories. I listened to his audiobooks while illustrating "Reckless".
Happy reading!
Sending my best wishes,
Cornelia has moved - and her website got a makeover.
A former Agriturismo in Tuscany will be Cornelia's home and meeting place for her "Artists in Residence" for the next few months.
Read message
Cornelia landed in Pisa on 1 September 2021. She has bought an estate nearby that for many years had been an Agriturismo. Here she plans to continue her Artist in Residence Project — initially for one year.
Below you will find a letter from Cornelia in which she explains how she decided to move from California to Italy. So a lot has changed, and a lot will continue to change. Not least her website.
In California, on Cornelia's farm, there used to be an old barn that she had turned into a writing house. And for a long time, the website looked just like that barn. But now the barn is no longer suitable. Everything on the estate in Tuscany is slowly coming together. The furniture is still on its way by ship, and Cornelia is also only gradually settling into her new home, but she is eagerly organizing and rearranging the former farm. The garage has already been converted into a studio, the old tavern got a new kitchen and the equipment for the recording studio is complete. At the same time we have been trying to redesign page by page for you. We decluttered a bit here and there, created more clarity — at least we hope that you will find your way around and that you will like it. Only the guestroom needs another fresh coat of paint and a bit more cosiness.
If you'd like to comment or send us a message before we open the guestroom and guestbook again, we are looking forward to your emails: mail@corneliafunke.com.
Dear Readers!
(Volterra, September 2021)
I am sure most of you know that for by now 4 years I have lived on the Wild West Coast, or California, as they named it, in a small town called Malibu.
I lived through fires and floods on the old Avocado Farm I bought. It was a good place to be at when Covid changed all our lives and it taught me about donkeys and rattlesnakes, about barn owls and redtail hawks. It made me realize that I would love to invite young artists from all over the world to talk and work with them and to give them a place where they can create.
Bonsall, as I called my Farm, has taught me so many things that I will always carry it with me. It gave me great happiness, many new friends, wonderful neighbours and the best avocados I will ever taste. But now I decided to move to another farm, on a hill in Tuscany, and have olive instead of avocado trees.
Next page
Why?

The first reason is man made. Our climate is changing because humans forgot how to live in this world with respect for the others who share this world with us. We claim to be more clever than anyone else, but our actions show another truth. We are the only ones who don't know how to live in this world without destroying it.

There had been no rain for months where I lived. The fires are raging almost every day somewhere on that coast by now, even high up North. Dead forests, killed by the drought, feed them, but where there are no trees there is no rain. Without plants there is no life on the planet.
So…. I sold my farm to an organisation that wants to restore the land and plant healthy food and will hopefully keep the magic of this place alive. And I move to a very old house on a hill near an even older town in Italy, with many olive trees and a creek and a well to continue, what I started in California: I will invite artists from all over the world to stay and work in 4 little apartments that once were the pig stables (that's true!).
Next page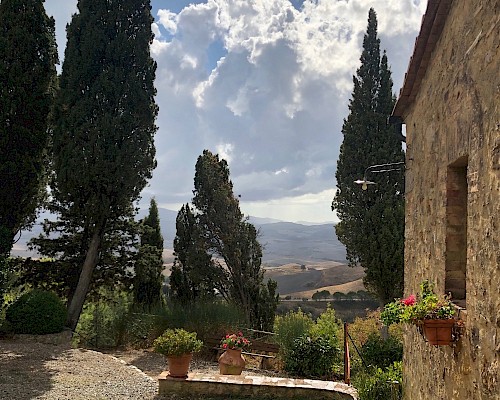 I'll have all my artist friends come to teach music, animation, writing and whatever else we come up with. There will hopefully be rain and no fires, but let's see! The world is changing everwhere. I look forward to be back in Europe as I miss my friends and family there. And I know all the wonderful friends I found in America will come and visit – and are luckily very exited that I move to Italy.

Well, most of my characters end up in Italy in my books, so it is not that much of a surprise, is it? And my Italian will hopefully soon be as fast as it once was!
Sending my best wishes,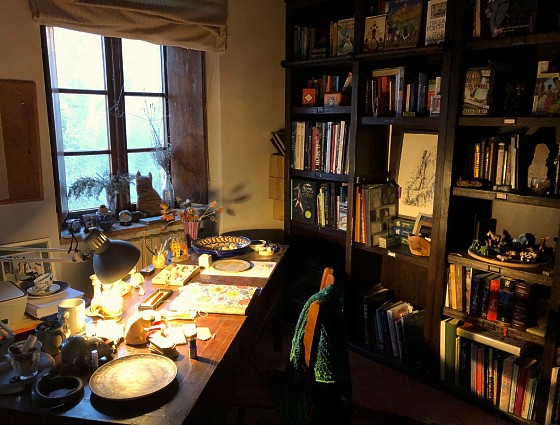 My writing room is almost ready for The Color of Revenge:)