Cornelia has moved - and her website got a makeover.
A former Agriturismo in Tuscany will be Cornelia's home and meeting place for her "Artists in Residence" for the next few months.
Read message
Cornelia landed in Pisa on 1 September 2021. She has bought an estate nearby that for many years had been an Agriturismo. Here she plans to continue her Artist in Residence Project — initially for one year.
Below you will find a letter from Cornelia in which she explains how she decided to move from California to Italy. So a lot has changed, and a lot will continue to change. Not least her website.
In California, on Cornelia's farm, there used to be an old barn that she had turned into a writing house. And for a long time, the website looked just like that barn. But now the barn is no longer suitable. Everything on the estate in Tuscany is slowly coming together. The furniture is still on its way by ship, and Cornelia is also only gradually settling into her new home, but she is eagerly organizing and rearranging the former farm. The garage has already been converted into a studio, the old tavern got a new kitchen and the equipment for the recording studio is complete. At the same time we have been trying to redesign page by page for you. We decluttered a bit here and there, created more clarity — at least we hope that you will find your way around and that you will like it. Only the guestroom needs another fresh coat of paint and a bit more cosiness.
If you'd like to comment or send us a message before we open the guestroom and guestbook again, we are looking forward to your emails: mail@corneliafunke.com.
Dear Readers!
I am sure most of you know that for by now 4 years I have lived on the Wild West Coast, or California, as they named it, in a small town called Malibu.
I lived through fires and floods on the old Avocado Farm I bought. It was a good place to be at when Covid changed all our lives and it taught me about donkeys and rattlesnakes, about barn owls and redtail hawks. It made me realize that I would love to invite young artists from all over the world to talk and work with them and to give them a place where they can create.
Bonsall, as I called my Farm, has taught me so many things that I will always carry it with me. It gave me great happiness, many new friends, wonderful neighbours and the best avocados I will ever taste. But now I decided to move to another farm, on a hill in Tuscany, and have olive instead of avocado trees.
Next page
Why?

The first reason is man made. Our climate is changing because humans forgot how to live in this world with respect for the others who share this world with us. We claim to be more clever than anyone else, but our actions show another truth. We are the only ones who don't know how to live in this world without destroying it.

There had been no rain for months where I lived. The fires are raging almost every day somewhere on that coast by now, even high up North. Dead forests, killed by the drought, feed them, but where there are no trees there is no rain. Without plants there is no life on the planet.
So…. I sold my farm to an organisation that wants to restore the land and plant healthy food and will hopefully keep the magic of this place alive. And I move to a very old house on a hill near an even older town in Italy, with many olive trees and a creek and a well to continue, what I started in California: I will invite artists from all over the world to stay and work in 4 little apartments that once were the pig stables (that's true!).
Next page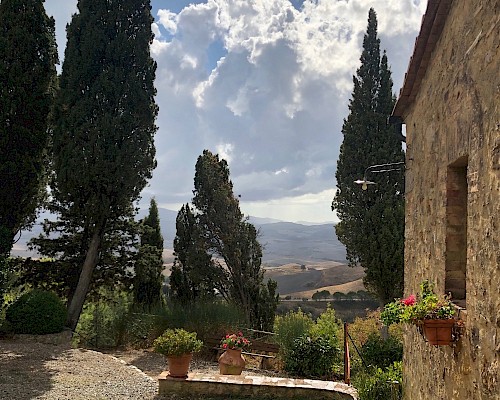 I'll have all my artist friends come to teach music, animation, writing and whatever else we come up with. There will hopefully be rain and no fires, but let's see! The world is changing everwhere. I look forward to be back in Europe as I miss my friends and family there. And I know all the wonderful friends I found in America will come and visit – and are luckily very exited that I move to Italy.

Well, most of my characters end up in Italy in my books, so it is not that much of a surprise, is it? And my Italian will hopefully soon be as fast as it once was!
Sending my best wishes,
Wishing you all a happy and healthy 2022!
To-Do-List
January '22
Editing "The Green Kingdom"

Project work with my Artists in Residence

"The Color of Revenge"!!!
Tuscan Breakfast Still Life
My furniture is still on its way, but of course I brought my notebooks in my suitcase.