Anne Zaghow
Illustrator from Oldenburg, Germany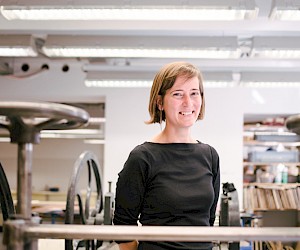 Anne was born in the northern German city of Oldenburg and grew up in a small village in Schleswig-Holstein, Germany's northernmost state. She has essentially remained more of a country person, even though she now lives in Hamburg and studies at HAW. Anne's dream is to live and work in a community with others ("people with similarly 'crooked' lives perhaps" (to quote Anne), somewhere in this world ...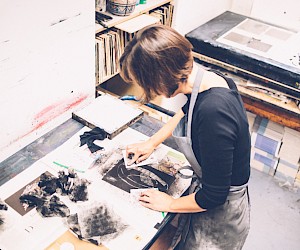 What brought you to art?
As far back as I can remember, I have always enjoyed drawing and painting. As a child, I could spend many hours with pen and paper and completely dive into my pictorial worlds. I can still smell the red wax cloth spread over our dining table, and I still remember the basket with a myriad of crayons that ended up scattered all over the table. Drawing and painting have always been how I react to my environment and how I bring my thoughts and ideas into the outside world. Especially as a teenager, pictures became a language for me, which could express everything that I could not put into words.
After the Abitur, I studied art history. With my degree, the question arose whether I could continue on the path I had begun with my studies or whether I should perhaps take a new path and follow my need to work artistically. I decided to take the turnoff: Gathering all my courage, I applied to HAW Hamburg for the illustration course and was accepted.
I still work exclusively in analog media. I like the handling of different drawing media and various papers and the change between artistic (thinking) processes and craftwork; my favourite places are the workshops of the Academy of Woodcut and Etching.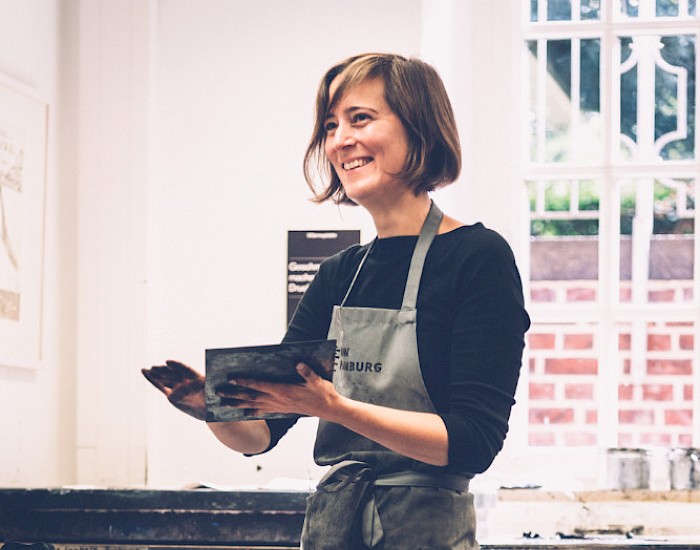 How did you get the opportunity to participate in Cornelia's "Artist in Residence Program"?
Like Inga, Sara, and Miro, I saw the announcement of a competition in cooperation between Dressler and the Illustration Department at HAW. The aim was to develop an illustration for one of three texts provided by the publishing house; there were no specifications or restrictions. I chose an excerpt, "The Beginning", from the "Reckless" series. The description of Fox caught in a trap touched me very much. I was particularly impressed by how language manages to describe the animal's multi-layered state of being — physical pain, fear, and courage. It happens in a few words and so vividly, making it tangible for me as a reader. I wanted to try and find an image that visualizes the animal, the vixen, and her unbroken strength.
It was a great challenge for me: I tried to find a way to express a feeling through drawing and thus make something invisible visible. Before that, I was almost exclusively involved with abstract collages and with the book as an object — freer than illustrative works. For this project, on the other hand, I thought of a specific motif from the very beginning. I hadn't worked like that for a long time.
I was incredibly happy that I was eventually among those who would be able to visit Cornelia on her farm.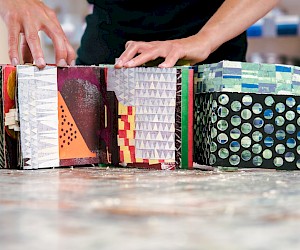 How did you enjoy your time on the farm? Did you find inspiration there?
A path made of the slices of a big eucalyptus tree connects the barn with the main building. I very much liked to walk this path, which was still fragrant in the warmth and whose wooden discs force the steps into their rhythm, each telling their own different story of the tree they were once part of.
The colours, shapes, and lines of nature, their changes throughout the day, and the tangle of plants were fascinating.
I spent a lot of time walking through the vast garden. Sometimes the surroundings almost seemed to swallow me up. Different views and panoramas opened up depending on the point of view; each place had its dynamic, power, and charisma. During my stay, I worked on a series of linocuts that played with different plant shapes. I also took countless photos of various plant forms and structures and created coloured papers and a sketchbook as a "colour archive."
It was a very productive time. The farm radiated a concentrated, powerful calm, the most inspiring working atmosphere for me. I could work endlessly; the hours just ran by — although time didn't really matter. The state of being wholly absorbed in a work process, of being with myself and my thoughts about the thing I am doing is something I often miss.
What did you take home from there?
Apart from my "forms/structures/colours archive", which I was able to take home to Hamburg in my suitcase, I will especially remember my encounter with Cornelia and the artists who were on the farm at the same time as I was, and with Angie and Maria. It was exciting to experience fellowship with people one has just met. The farm is an incredibly lively and open place.
It was nice to get together in the mornings and evenings or during work breaks to drink coffee, cook and eat together and exchange ideas about all kinds of things. To get an insight into the work of the others, into their diverse questions, and the things that interest them, and to learn new things from them. The conversations helped me to see myself from a different angle, and to question assessments about myself, to look at myself and my path with kinder eyes.
The time on the farm has awakened something new in me. A change has begun, which I cannot yet grasp or name, but which I can clearly feel.