Ayesha Gamiet
Artist, illustrator and art educator from London
Ayesha was born in London and lives and works in the South East of England. Living amongst the midst of different cultures, she integrates this in her paintings. Ayesha teaches both within the UK and abroad, and works as an artist completing commissions and design work.
We conducted the interview in 2019.
Website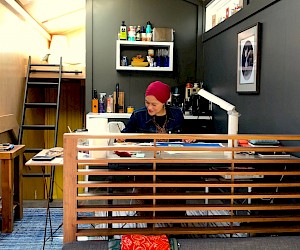 What brought you to art?
I have loved painting and drawing for as long as I can remember, and was lucky enough to have supportive parents who always encouraged my creativity. My parents are from South Africa. My Father achieved a Diploma in Fine Art from the University of Cape Town, but was sadly prevented from completing the full Bachelor's degree due to the Apartheid regime. When my parents immigrated to England, they were determined to allow their children the freedom to pursue their interests and talents, as they did not have the same opportunity in South Africa. Being British, Muslim, of South African parentage, and mixed African / Asian / European ethnicity meant that I grew up enriched by many different cultures. At university, I completed a degree in African and Asian Art History and Archeaology, then a Master's in Visual Islamic and Traditional Arts. It was during this time that I discovered my love of illuminated manuscripts and Persian and Indian miniature painting. I travelled to Istanbul to learn more about Islamic manuscript illumination, and ended up apprenticing myself to a Master Illuminator! I completed my apprenticeship in 2018, and was awarded my ijaza (traditional diploma) at a ceremony in the courtyards of the Sulaymaniye Mosque in Istanbul! My love of beautiful books led me to explore the world of children's book illustration, where I combine my love of Islamic art with traditional and contemporary stories. I also work as a fine artist, and I teach Islamic art in the UK, and internationally.
How did you get the opportunity to participate in Cornelia's "Artist in Residence Program"?
Through the most wonderful and magical coincidence and serendipity! About five / six years ago, my friend Rukhsana Khan met Cornelia at a book festival in India. Rukhsana mentioned me and my work to Cornelia, and sent Cornelia a few images of my illustrations. Rukhsana introduced Cornelia and I over email, and as Cornelia was travelling to London for a book tour, she invited me to join her for a coffee!
I was completely overwhelmed by Cornelia's generosity and kindness. We talked about books and illustration, and my work as a teacher (I was a full-time art teacher in a secondary school at the time). Cornelia encouraged me to pursue children's book illustration as a career, and she suggested that I also write my own stories. She invited me to LA, but I was so shy!
Fast forward five years, and I was completing my first children's book illustration project with Rukhsana. I thought about Cornelia so much, and the advice she gave me — it had all come true! I decided to reach out to her to say "thank you", and let her know that I was finally working in children's books :) I wasn't sure whether Cornelia would remember me, but to my surprise and delight, she did! And she invited me to complete a residency at Cornelia's farm, so through all that magical serendipity, here I am!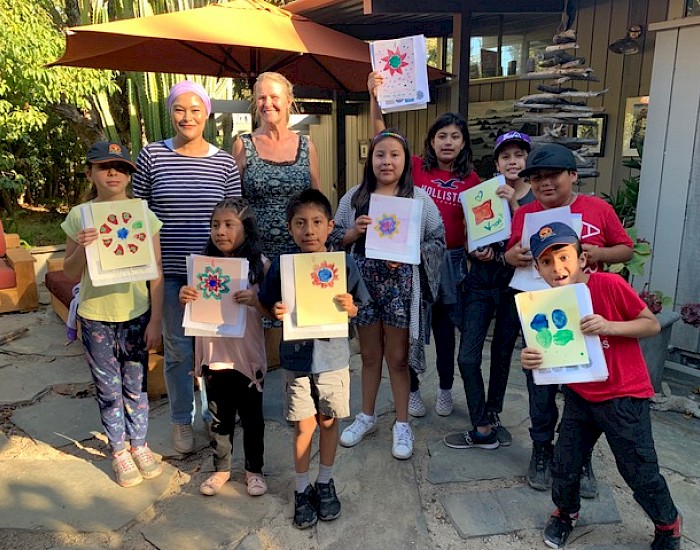 How did you like your time on the farm? Did you find inspiration there?
It is no exaggeration to say that my time on the farm has been a life changing experience. I have been so inspired, and learned so much, it's impossible to know where to start. The experience of living in nature, the enriching conversations we've had, getting to know the other artists and learning about their craft and process... has probably inspired an entire library of new stories and a lifetime's worth of art!
My sketches and paintings from the farm will surely inspire new landscapes in my art and illustration work. The conversations I've had with Cornelia and the other artists have both helped me to refine and develop already existing story ideas, as well as inspire new ones. There are some exciting collaborations in the pipeline!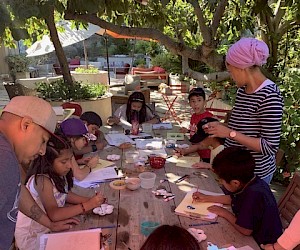 What did you take home from there?
In addition to all the ideas and inspiration, I will take home an increased sense of confidence in my work and abilities. Cornelia has helped to uncover my love of storytelling, so I predict more writing, as well as illustration in my future! For that, I cannot say "thank you" enough.
It has been a huge honour and a privilege to watch a Master storyteller and illustrator at work. This has helped me to define my own working process. From simple tips, such as keeping separate journals and sketchbooks for each project, and developing a "daily ritual" in which to scribble down ideas or images, to noticing how Cornelia always priorities her loved ones over her work... I have learned so much.
My stay in Malibu has helped me to honour and appreciate the magic of the everyday, which I hope to take home and share with those around me.