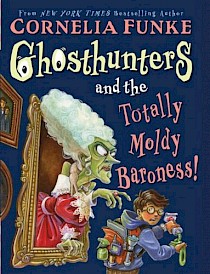 Ghosthunters
and the Totally Moldy Baroness
Hyssop & Co's newest opponent is by no means a harmless castle ghost. This time they have a mightily malicious adversary. Body snatcher alarm!
Strange and stinky things are happening at Gloomsburg Castle. To begin with, the creepy place is crawling with TIBIGs (Tiny Biting Ghosts, per the Indispensable Alphabetical Index). And now it appears that the murderous spirit of a 400-year-old, Totally Moldy Baroness has possessed the palace's owner, infecting her with a killer case of hic-hic-hiccups!
To put an end to the foul play and dispel this rank, decaying royal for good, count on ghost-busting boy wonder Tom, Averagely Spooky Ghost Hugo, and the ever-resourceful Hetty.
First published

2007

Reading age

Age 8

Illustrated by

Cornelia Funke

Publisher

Chicken House

Available at

IndieBound.org

Also available as

Audio Book
One February afternoon, the fax machine of the famous ghosthunter Hetty Hyssop spat out the following message:
"My name is Theodore Worm and neither I nor my dear wife, Amelia, are easily scared. Over the last few days, however, we have both experienced incidents that have devastated both our nerves and our health. A week ago my wife and I took over the management of Gloomsburg Castle, an estate belonging to the von Gloomstones. When we arrived, we heard rumours that a ghost had been up to mischief at the castle for years. Our employers never mentioned it, though, and so we initially ignored the gossip. After all, we ARE living in the twenty-first century! Since our arrival, however, we have witnessed such a number of puzzling and deeply disturbing incidents that we are gradually starting to doubt our sanity. Your company, Hyssop & Co., was recommended to us by OFFCOCAG (the OFFice for COmbating CAstle Ghosts). Please help us! We are desperate! Yours
sincerely (and deeply distraught), Theodore and Amelia Worm"
It wasn't much to go on, but the three ghosthunters at Hyssop & Co. were well used to such a lack of detail in the calls for help from their terrified clients. After several failed attempts to speak to the Worms on the phone, the trio loaded their car with their basic ghosthunting-equipment, added a couple of special devices for fighting off historical ghosts, and packed Tom's brand-new computer, which enabled him to tap into the extensive data bank of RICOG (the Research Institute for COmbating Ghosts).
Other books in the »Ghosthunters« series