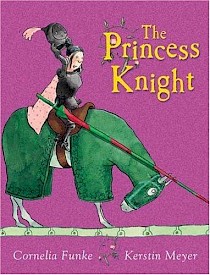 The Princess Knight
It's not easy for a king's daughter to keep up with three strong brothers. But Violetta has a mind of her own and wants to decide for herself whom she will marry. A knight stands by her side.
Violetta is a little princess who wants to be as strong and brave as her brothers. And what she lacks in size, she makes up for in determination. At night she slips out into the woods and secretly teaches herself to become the cleverest, most nimble knight in the land. Soon she will be ready for the greatest battle of all - the battle for herself.
King Wilfred the Worthy had three sons. He brought them up just as his father had brought him up, and they were taught all the things he had been taught.
They learned riding and jousting, fighting with swords and good table manners. They learned how to stride around proudly and how to shout very loudly. And (most important for princes) they learned how to give orders — to their nursemaids, their servants, their dogs and their horses.
Then Queen Violetta had a daughter but died when the baby was born. No one would dare tell the king how to do anything — especially how to raise his little girl. So he called her Violetta and decided to teach her the same lessons as he had taught his sons ...