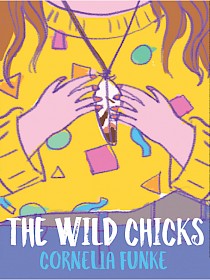 The Wild Chicks
A real gang. Like that of those stupid boys - the Piranhas. As of now, Charlie, Hannah, Izzy and Xa are The Wild Chicks. Hideout and gang badge included. When the Piranhas get wind of it, "rivalry" can begin.
After looking after Charlie's grandma's chickens, best friends Charlie, Hannah, Izzie and Xa (Alexandra) form a secret club formed by the first letters of their names. They are the C.H.I.X. They wear a feather around their necks, look for adventure and swear an oath to never eat poultry! Despite attracting the unwanted attention of a local boy-gang, known to the girls as the Foxes (Pygmies), ultimately they enjoy an easy-going boy-girl rivalry, eventually becoming good friends while always dealing with their own on-off friendships and family dramas. The original series of five books in Germany has sold more than a million copies where it has captured a generation of readers who have grown up with the series.
First published

2018

Reading age

Age 10

Illustrated by

Florentine Prechtel

Available at

IndieBound.org
It was a wonderful day, as warm and soft as chicken feathers. Unfortunately, it was also a Monday, and the huge clock above the school entrance was already showing quarter past nine as Charlie came speeding into the school playground. 'Oh no,' she muttered as she shoved her bike into the rusty bike stand and yanked her school bag from the basket. She raced up the steps and through the empty assembly hall. On the staircase she nearly ran over Mr Mower, the caretaker. 'Whoa!' he spluttered, nearly choking on his cheese sandwich. 'I'm sorry,' mumbled Charlie, as she rushed on. Two more corridors and she stood, panting, in front of her classroom.
Behind the door there was a deadly silence, as always when Mrs Rose was teaching. Charlie took a deep breath, then she knocked and opened the door. 'Sorry, Mrs Rose,' she mumbled. 'I had to feed the chickens.' Big Olly stared at her. Gorgeous Izzie arched her eyebrows, and Freddie, the class idiot, flapped his arms and crowed. Very funny. 'Well, that's an original excuse for a change,' said Mrs Rose, pursing her red lips as she put a cross in a little notebook. Glum-faced, Charlie went to her seat. She stuck her tongue out at Fred and sat down next to Xa (short for Alexandra), her very best friend.
'You've got straw in your hair,' whispered Xa. 'Why did you have to feed the chickens? Is Grandma Slater sick?' Charlie shook her head and yawned. 'Gone to her sister's. And now I have to get up an hour earlier every day to feed her chickens. A whole hour! Can you imagine?' 'That's quite enough whispering back there,' called Mrs Rose, as she began to draw mysterious sums on the blackboard. Xa and Charlie ducked their heads down until their noses nearly touched their books. 'But at least I had an
idea,' whispered Charlie. 'Yeah?' Xa looked worried.
Charlie's ideas were generally worse than the flu. And she was constantly hatching new ones. 'Send a message to Hannah and Izzie,' Charlie hissed out of the corner of her mouth. 'Secret meeting, next break, girls' toilets.' Hannah and Izzie sat next to each other, three rows in front. They were both studiously staring at the blackboard. 'Oh no,' groaned Xa. 'You're not starting with that being-a-proper-gang stuff again?' 'Write!' hissed Charlie.
'How did you come up with the idea for the C.H.I.X. book series?' I don't know how often I have answered this question. The C.H.I.X. were born on that day when my book editor asked me to write, for a change, a story without fairies, ghosts, pirates or the like. "Goodness gracious", I said, "that must be a bore ...." But then I sat down and made up the C.H.I.X.
I was then quite familiar with "real chickens", for my husband and I had chickens ourselves. Besides, I was reminded of stories about spiky, strict grandmothers, that people had told me before, and at my husband's school there was a boys' gang whose first target was he.
By now there are hundreds of gangs in Germany, which call themselves C.H.I.X., girls that dye their hair red to look like Charlie, fathers who have to build chicken houses in their gardens, and by now even three film adaptations.
I really hope that my English speaking readers will take them to their hearts just as much as my German readers did.
So, off to feathery, carefree summer adventures!
Other books in the »The Wild Chicks« series