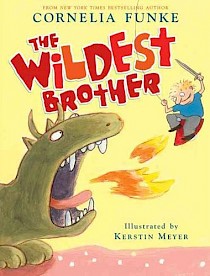 The Wildest Brother
Wolves, bears, man-eating monsters - no serious adversaries for lionhearted Ben. But then in the evening, when it gets darker, having a big sister is not so bad after all.
Cornelia wrote this picture book about the wildness of her son (who is now much older, but still very wild) and the sufferings of her daughter (who is still very sweet and very patient with him). And yes, it is true that Ben painted red spots on all the furniture and told Cornelia those were bloodstains from a man-eating monster.
First published

2008

Reading age

Age 4

Illustrated by

Kerstin Meyer

Publisher

Chicken House
Some mornings when Ben wakes up he is a wild wolf. Or a knight. Or a monster covered in scars.
He paints them on his face with Anna's makeup. He always creeps very quietly into her room.
But sometimes Anna catches him. Then she gives him a good tickling.
Anna is Ben's big sister. Big sisters, unfortunately, know exactly where little brothers are ticklish.