Joana Dürnberg
Art student at the Hamburg University of Applied Sciences (UAS)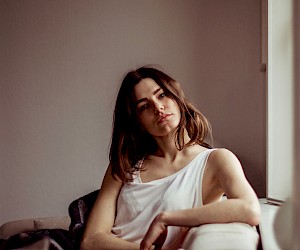 Joana was born in a town near Hamburg, from where she commutes to Hamburg for work and study. In her mid-20s, she lived in Barcelona for a while, which still frequently draws her there. This city feels like a second home to Joana and continues to inspire her with its colorful diversity. In general, many of the places Joana has traveled to have made a lasting impression on her. She can well imagine living in another country again in the future. Besides painting and illustration, Joana is passionate about music, theater, dance, literature, photography, and nature.
* Note on Joana's answers: Joana mentions Italy as "residency" instead of Malibu, because for quite some time a desire for change has been growing and ... Cornelia moved to Italy in September 2021, so the illustrators that — due to Corona — could not travel to her farm last year, will spend their residency in Cornelia's new Tuscan home. *
Website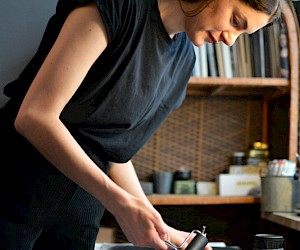 What brought you to art?
Actually, I have been drawing and painting for as long as I can remember. I discovered very early a means of expression for me in these areas. Therefore, it was already clear to me at a young age that I would later like to work in a creative field.
As a child, I did a lot of crafts with natural materials — especially wood. I built my own dollhouses or simple "furniture" for my room. I have particularly vivid memories of the sensual aspect and playful handling of materials like wood, paper, sand, etc. And (picture) books also played a significant role while growing up, first through my parents' rituals of reading aloud and later through exploring reading worlds on my own. The stories inspired me to think up and write down my own stories. This is what founded my focus on book illustration.
The decision to study illustration at HAW, however, came only after a few professional detours. After all, something usually gets forgotten on the way to adulthood. The joy of playful, free design and uninhibitedness often give way to one's own fears or the pressure of expectations from outside. The child in me, who found so much fulfillment in drawing and painting, was thus pushed aside a bit before it could finally assert itself with its creative will.
After some years in the educational field, where I still work part-time and with great pleasure besides my studies, I took the courage to apply for the study of book illustration at the HAW Hamburg. I am now in the master's program there.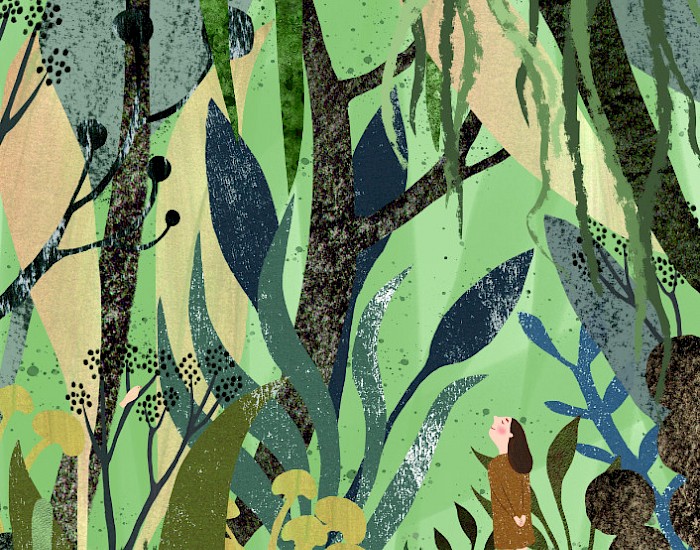 How did you get the opportunity to participate in Cornelia's "Artist in Residence Program"?
The opportunity came about through an illustration competition in early 2019, which was part of a course under Prof. Mölck-Tassel at my university. The assignment was to illustratively interpret one of the stories by Cornelia Funke that were available for selection.
I decided on the story "One for the Other." Firstly, I read it as a tale of love, loyalty, and attachment, both in the connection between Tom and the king's daughter Portia and in the sibling love between Tom and Anna. On the other hand, I also see in the character of Portia a story of a strong, independent girl who doesn't seem to care much about being considered "beautiful." A girl I imagine to be wild, strong, and emancipated, who bravely rides off into the forest all by herself. In creating my illustration, I focused on depicting the king's daughter, whose wildness and inner strength I wanted to make clear by creating an untamed forest/jungle.
It was a great surprise, and I was thrilled when I was chosen among the best 10 participants of the competition. I am very grateful for the great opportunity to participate in the artist residency with Cornelia Funke.
What do you need in your suitcase for the trip to Italy besides sunscreen and slippers?
About 1.5 years ago I switched from the analog way of working to digital drawing with the iPad. This was a very radical development for me because before that, I had always preferred analog drawing and was somewhat skeptical about digital.
In the meantime, I wouldn't want to do without my new work technique because, in addition to the versatile creative possibilities, it's simply convenient to be able to take the iPad with me everywhere. So it would probably also accompany me on this trip. But also a good book and my camera should not be missing. And before I forget: My favorite Earl Grey tea should also be there; I need that for a good start into the day.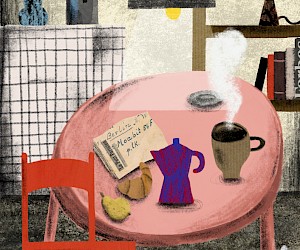 What do you dream of doing on Cornelia's farm, and have you ever been to Italy before?
First of all, I am incredibly excited to meet Cornelia Funke, and I am convinced that I will take away many valuable and lasting impressions from this encounter. I am eager to exchange ideas with Cornelia and to listen to her experiences and adventures. I already have a lot of questions that I would like to ask her.
In the meantime, it has been decided that our stay will be in Tuscany, Italy. I've been to Italy a few times (including Bologna for the annual children's book fair), but never to Tuscany. I'm super excited to see the local landscape, smells, and visuals. I take a lot of inspiration from meetings with other people and the different shapes and colors of nature. So I am sure that the stay at Cornelia's farm will also trigger new ideas for my artistic work.