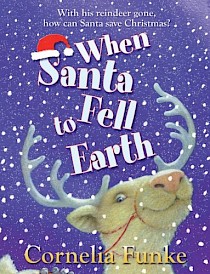 When Santa fell to Earth
When Santas and their helpers fall from the sky, it bodes ill. But what if they landed on your doorstep?
Luckily the extraordinary passengers – Niklas, a real-life Santa Claus, two angels and assorted elves – crash-land in a friendly neighbourhood where two children called Ben and Charlotte come to their rescue.
But they're still in terrible danger. On their trail are Gerold Goblynch and his motor-sledge-riding bad Santas, a treacherous bunch from Yule Land, who will stop at nothing to steal Christmas.
First published

2006

Reading age

Age 8

Illustrated by

Paul Howard

Publisher

Chicken House

Available at

IndieBound.org

Also available as

Audio Book
"Quick!" Ben called back. "I can't hold on!" The invisible reindeer struggled against Ben's grip. Helplessly he stumbled after it, straight towards that blasted plastic tree. The thing started rocking like a real tree in a storm. Then it leaned to one side, and parcels and tinsel began raining from the branches. People started screaming, and the crowd scattered.
The sales assistant stomped towards Ben fuming. He was still holding on, but Twinklestar was nearly pulling him over. "Climb on his back!" Charlotte shouted. "Quick!" And suddenly Ben saw her sitting above him in the air, waving him wildly towards her. But before he could get to her, someone grabbed his arm. "Got you, you cheeky little devil!" The sales assistant screamed. "Look at this tree! That's going to cost your parents a fortune!" His parents! With a last desperate effort, Ben pulled himself free and reached for Charlotte's hand.
The next moment he was sitting behind her on the back of the invisible reindeer. The assistant stared up at them, her mouth wide open. "Ho!" cried Charlotte, and tugged at Twinklestar's bridle. "Ho" Ho! Ho!" The reindeer leaped into the air, nearly throwing the children off again. Then it reared up and vaulted over the crowd.
As light as a feather it pranced through the air, two or three metres above the tables and racks. Ben nearly hit his head on a huge neon angel that hung from the ceiling. The excited voices underneath them had fallen silent. Only the loudspeakers were still blaring out their Christmas music. Men, women and children gazed silently into the air, when Ben and Charlotte floated through the Christmas decorations on the invisible reindeer.
Out of all my books, this is one of my favourites, as I love the characters so much. Twinklestar, the invisible reindeer (well, most of the time invisible) Mathilda and Emanuel, the Christmas angels, all the swearing Christmas gnomes (so many that even their master forgets their names) and of course Niklas Goodfellow, the last true Santa (though he is still so young, that he wears an artificial white beard). Let's see how you like Garold Goblynch, who stole Christmas, and his huge nutcrackers... well, hopefully you don't like them at all... anyway, I very much hope you'll enjoy this story. It is my way to say 'Merry Christmas'!